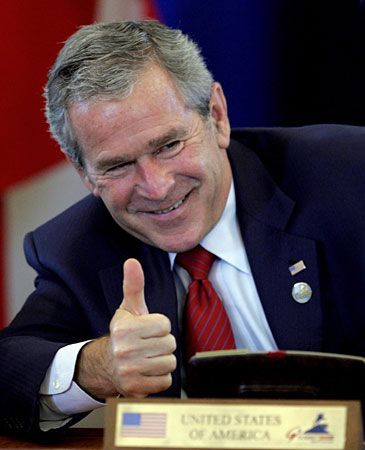 No, no, no! Not
Bush
. You already met him.
I'm talking about

Boosh

!
As in The Mighty

Boosh

.
The British radio-turned-television show that I am always blathering on about has been picked up by Adult Swim, so you kids here in the states can enjoy without having to watch it in ten-minute increments on YouTube, or shelling out dough for a region-free

dvd

player!

Yay

!
(I have all three seasons on

dvd

, but I'm excited for you guys!)
I thought I should introduce you to the characters:
Howard Moon, played by

julian

Barratt
Howard Moon: Zookeeper, jazz enthusiast, fan of bouncy castles. Howard is serious, philosophical, unlucky, and usually the butt of most jokes.

Vince Noir, played by Noel Fielding
Vince Noir: Zookeeper, sometimes punk/ sometimes mod, androgynous, fashionable. Also fan of bouncy castles.
Naboo
, played by Michael Fielding (Yes, they are brothers)
Naboo: Shaman/ kiosk vendor. Naboo is usually accompanied by his familiar, the ape Bollo, pictured below. The two are fans of altered consciousness, and great deals.
Bollo, played by Dave Brown
Bollo: Ape, shaman's familiar, kick-ass drummer. Catchphrase: "I got a bad feelin' about this."
Bob Fossil, played by Rich Fulcher
Bob Fossil: Inept manager of The Zooniverse, the zoo in which the previous characters are employed (in Season 1, anyway). Despite managing a zoo Bob doesn't know the actual names of the animals. He calls an elephant "the grey, leg-face man."
So there are the main characters you will see on The Mighty Boosh. Most of the actors above also play other characters on the show. There are lots of costumes and bizarre scenarios. There is music and crimping in every episode. Crimping, according to Wikipedia, is:
"a type of humorous a cappella nonsense song, sung in a scat style featuring lyrics characterized by non-sequiturs that is rhythmically similar to beatboxing."
I guess you'll have to watch it for full effect. Not everyone will like it, but I do! Here's a taste, kids. Enjoy.
This clip is from the episode "Nanageddon." The setup: Vince and Howard dress up like goths to impress some girls they invite over. They go through Naboo's book of spells and accidentally release a demon.
Watch the clip here. The BBC doesn't allow video embedding. Jerks!